Water Heater Repair & Installation in Evansville IN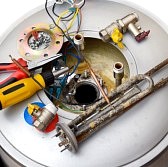 When it comes to getting the water temperature in your home where you want it to be, you will need to have the best water heater possible. If you have a problem with the one you have and need a repair or you want to replace it, you should rely on Baylor Heating and Air Conditioning, Inc. We serve the greater Evansville, Indiana area and have been in business since 1984. We have the expertise to address any hot water concern you may have.
Types of Water Heaters
As the homeowner, you will want to know what your options are when it comes to keeping the water in your home the ideal temperature. Below are two of the most commonly selected choices with some basic information about each one:
Tankless
This is one of the most modern types and it comes with a number of advantages. A tankless model may be capable of heating your water at a faster rate than other types on the market and takes up much less space, as well. Some experts say that you can save at least 10 percent on your water bill each month by installing this type.
Conventional
Many homeowners may have an older type of water heater. The disadvantages of this type are that it takes up a lot of space and it may take longer to heat the water in your home.
Services We Provide
We have a well-trained staff of 30 professionals who can address any concern you have with your water heater. This includes replacing your current model, giving you our expert opinion on the one that is best for your individual needs or repairing the water heater that you currently own. Be sure to contact Baylor Heating and Air Conditioning, Inc. by calling us at 812.425.8435 to help you keep your water hot!