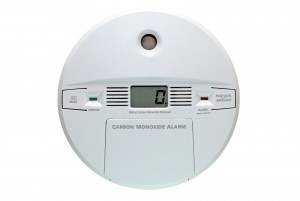 Carbon monoxide is an odorless, invisible toxin that can sometimes infiltrate a home's air due to a fuel-burning source that is leaking; these sources could be things like gas stoves or space heaters. This terrifying toxin is life-threatening, so it's crucial that you take the necessary precautions to protect your home from carbon monoxide. Let's discuss how you can do this.
Carbon Monoxide Detectors
These gadgets look similar to smoke detectors, but they are definitely not the same thing. Carbon monoxide detectors detect if there is a presence of carbon monoxide in the air. They can be installed or mounted onto a wall space, or they can be plugged into an outlet. Regardless of what form of detector you get, make sure you get one, especially if you have any appliances that burn fuel.
Once you have the detector, make sure it functions properly year-round. It helps to designate a specific family member to test the detector monthly – usually there is a button on the device that can be pressed to test it – and make sure it's working. This safety precaution may seem small, but it ensures you know your carbon monoxide detector is always working.
Don't Risk It
If you have any appliances in your home that burn fuel as a source of power, have a trained and qualified professional come to your home and inspect them. Ensuring that the appliances work properly and aren't leaking can keep your family breathing safe air. Don't risk your safety; have your appliances inspected now by Baylor Heating and Air. 812.425.8435