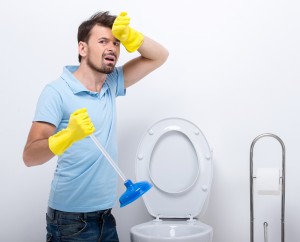 Are you hoping to fix a leaky flange gasket on your toilet? This isn't exactly a simple endeavor, but keep in mind that it can certainly be done. First, let's go over what a toilet flange actually is.
A toilet flange is at the base of your toilet. This is the part that connects the floor and piping. Typically, a toilet flange is a circular, flat piece of metal or rubber that has holes drilled in it – bolts go through the holes, to hold the toilet tightly to the ground and keep it in place.
So, how do you know when your toilet flange is broken or leaking? If you start to see moisture or water pooling around the base of your toilet, this is a good indication! Let's go over repairs.
First, you'll want to gather up cloth, nuts & bolts, a screwdriver, and a wax gasket. These are all the tools you'll need to successfully repair your toilet flange. When you're ready to begin, start by turning off your water supply and emptying the tank. Next, remove the toilet bowl and clean up the flange area. Next, tighten the bolts around the flange, or remove the entire flange & replace it – if the situation calls for this. Finally, when in doubt, call a pro!
Contact Baylor Heating & Air Conditioning Today – We're the Experts!
Do you have further questions about how to fix a leaky flange gasket on a toilet? If so, you need an expert's opinion! Here at Baylor Heating & Air Conditioning, we're here for you. Our team of HVAC & furnace experts have years of experience and in-depth expertise when it comes to improving air quality. We're always happy to offer our assistance. Call us today at 812.425.8435 to schedule an appointment with one of our highly-trained technicians. We look forward to speaking with you.
Published at May 1, 2017
Category: Plumbing